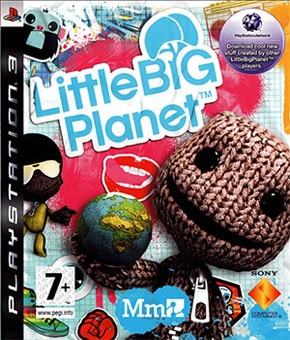 Little Big Planet ps3 games is very much awesome puzzle game series and it is developed by Media Molecule and also published by Sony Computer Entertainment. The first released of this game was 27 October 2008. And it became popular within a very short time.Download the best Little Big Planet ps3 roms free.
Developed by Media Molecule, LittleBIGPlanet is a puzzle platform game that gamers of all ages enjoy. If you like to solve puzzles, you would have a good time playing LittleBIGPlanet on your PS3 emulator. 
Overview LittleBigPlanet PS3
An Emphasis On Creativity
At the center of LittleBIGPlanet is Sackboy who is in essence a blank paper that you could draw on. While proceeding through the story, you may collect new materials, get new costumes and unlock accessories for Sackboy. Therefore, you have the freedom to customize the appearance of Sackboy to your liking. That is a big plus once it comes to creativity. 
Complete Control Over Action And Expression 
All in all, you can move the arms of Sackboy and smack others using the analog stick. Furthermore, via the D-pad, it's possible to change the way Sackboy expresses himself: up for happy, down for sad, right for angry and left for scared. Hence, in terms of immersion, LittleBIGPlanet scores well by all accounts. 
Incentives In Every Level 
Each level contains loads of collectibles waiting for you. Unsurprisingly, the game keeps the goodies out of sight and you have to concentrate on exploration to pick them up. Hidden items range from stickers and decorations to full-fledged objects. Discovering keys also helps unlock extra levels so leave no stone untouched. 
Solid Graphics And Audio 
The quality of graphics and audio, especially the ones used in the tutorials, is tip-top. As the voice-over actor gives his vocals to the game, the game becomes like a kid's instructional voice and that makes the experience cheerful. While the graphics lacks complexity, it's still captivating for most of the time. 
Tips And Tricks LittleBigPlanet PS3 
Collect All The Costumes
To unlock costumes, you'll need to complete the stage that corresponds to them. For example, if you want the "Dinosaur Tail," you'll need to wrap up "Lowrider" and if you like to have the "Japanese Festival Headband", go through "The Terrible Oni's Volcano." 
Cheat To Beat Minigames
In case you don't know, you can cheat your way through mini-games. In Story mode, as soon as the entrance is out of the way, pause the game, hold down the PS button and hit "Turn Off Controller". The moment the screen tells you to "Press the PS button to play!", press the button. By doing so, you don't have to worry about losing lives.
Invest In Level Creation  
As you create levels on LittleBigPlanet, use three materials at most for each level. Also, if you intend to create large objects, use grids to separate them evenly across the entire space. It won't hurt to organize your puzzles and traps nicely to make the level aesthetically pleasing. If you want to hide a sticker or a trap to make your level puzzling, feel free to abuse the Dissolve feature.
| | |
| --- | --- |
| CONSOLE | PS3 ISO |
| PUBLISHER | Sony Computer Entertainment |
| REGION | World Wide |
| GENRE | Simulator |
| Size | 7 GB |
| File Format | ISO |