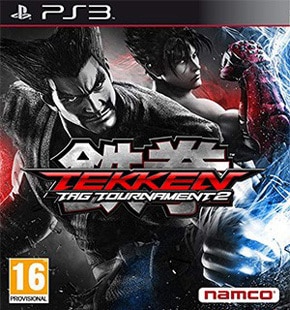 Tekken tag tournament 2 ps3 games is a fighter games and it is also a sequential game. It got popular very rapidly than any other games. It was released on September 11, 2012 and published by Bandai Namco games. It is a console game and best PlayStation 3 games always is on update version.Download the best Tekken tag tournament 2 ps3 roms free.
Released by Namco Bandai Games for the PS3, Tekken Tag Tournament 2 includes almost every character from past Tekken games. Thus, Tekken Tag Tournament 2 is well-received by fans of the franchise and presents an excellent entry point for newcomers. 
Overview Tekken Tag Tournament 2 PS3
Tutorial Is No-Nonsense 
You know little about Tekken? In that case, you should give Fight Lab a go and learn the basics. The Fight Lab makes it easy for you to master techniques and use them to your advantage. Also, the training regimen progresses at your pace so you should have an easy time absorbing the knowledge. 
Huge Cast Of Characters 
Among the games in the fighting genre, few could match Tekken Tag Tournament 2 in terms of characters. If you like certain Tekken characters from previous entries, it's highly likely that they appear in the cast. The only character who the developers left out is "Gon" and that was purely because of copyright issues. 
New Mechanic: Tag Assault 
As the name suggests, Tag Assault enables you to call in your teammate and attack the opponents. Assuming that you nail the timing, it's possible to abuse Tag Assault and lay down long combos. Aside from that, since the roster of Tekken Tag Tournament 2 consists of many characters, it's possible to put together all sorts of Tag Assault combinations.
Second To None Customization
In Tekken Tag Tournament 2, you could customize aspects of characters to your liking. For instance, it's possible to give your characters shotguns, samurai tops, angel wings and so on. As a result, there is no need to do much to create unique looks. 
Tips and Tricks Tekken Tag Tournament PS3 
Prioritize Easy Trophies In Arcade
In the beginning, go to Arcade mode and pick up easy trophies. Go to "Options" then choose "Round 1 only" to speed things up. To get all trophies in Stage 1, you'll have to do Arcade mode at least twice: solo and with a partner. If you run into problems, feel free to set the mode to "Easy". 
Give Ghost Battle A Go
Of all the modes, Ghost Battle is the most time-consuming. However, when you win, you could promote a character to the Tekken Lord. Hence, as soon as you get the hang of the game, you should test your skills in Ghost Battle.
Keep An Eye On The Health Bar
Since Tekken Tag Tournament 2 is a tag game, you should pay attention to the health of all of our characters instead of one. Once the health bar depletes, the character is out so for good measure, keep the bar at 75%. If your character is low on health, you shouldn't risk bringing him/her out.
Unlock All Of The Content 
After you finish the main game, you could start earning remaining trophies, many of which you can get in practice mode. In addition to that, it won't hurt to check which movie endings you've yet to earn then play the corresponding characters in Arcade mode.
| | |
| --- | --- |
| CONSOLE | PS3 ISO |
| PUBLISHER | BANDAI NAMCO |
| REGION | EU . JP . AU |
| GENRE | Action |
| Size |   |
| File Format | Decryption Folder |